2,000 people here, the announcer said, in -22 windchill, on concrete sidewalks (slipping, ice and snow), with signs: "PROTECT LIFE."
In the Carondelet Center Library, I'm still cold; I nearly left my coat and scarf on during my meeting with my spiritual director, but I thought that would be strange, awkward. So my Columbia coat swung on its rack for an hour like a girl on a swing set and purple chenille scarf sat and rode along.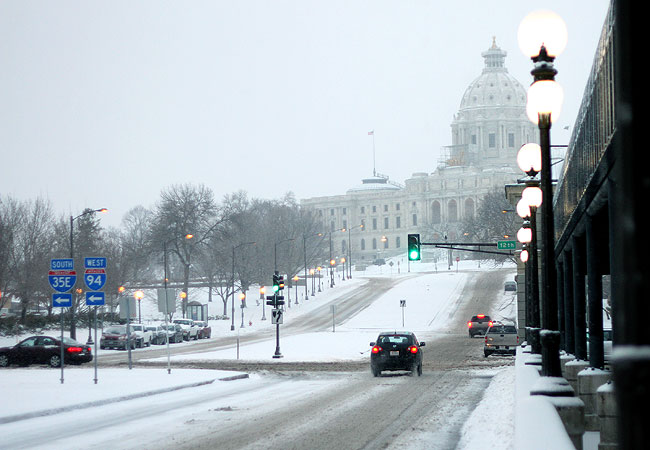 Sunlight slides down the bronze horses on the capitol's roof, steps off the bugler's bronze horn. Taps plays, and I think, this must be the way music cries. A sign: "50,000,000 CHILDREN MISSING."
At the shelf, "Contemplative Spirituality," I rub my fingertips together as they tingle numbly where I frostbit them years ago. Earlier, on the bus ride back from the capitol, they were shot with pain, but I was glad for it: in the cold, pain means you're all right.
White-gloved fingers tap endlessly on my hometown sign's handle, flicking blood back into them. They have stopped hurting, so I am worried. My sign shakes: "WHITE BEAR LAKE."
The library echoes quiet. There is a dark sort of silence that makes it hard for me to think or breathe or pray, the sort of silence that makes my thoughts not my own, and I become afraid—I know I am not enough—I know I am a failure—and I know those lies are true. But here, the silence is one born of years of contemplation in the presence of God; it is the silence of a building praying.
I twist between a mother whose daughter wears a donkey-eared hat and watch the little girl's face, red and chapped. What have I done here? Has anything happened? Has anything changed? The unborn die and those born still live as dead, and the more I love, the more I feel pain.
Henri Nouwen is an old friend, and I slip his book
Intimacy
off the shelf. Page 36. And I read one last sign: "Perhaps the best definition of revelation is uncovering the truth that it is safe to love."